I received an email a few weeks ago from a PR girl named Ebony telling me that iD Dunedin Fashion Week is coming up, had I received the press releases, did I want to know anything more etc. I was feeling cheeky that day and sent a quick reply back. "I'd be really keen to go if I could hook up some sponsorship..." She fired a quick one straight back at me. "I can't promise anything, but I'll see what I can do." Ebony turned out to be a godsend and my cheekiness paid off. To cut a long story short, I'm in Dunedin.
Now, about that outfit.


I arrived at about nine this morning after catching the 7:15am flight from Auckland to Dunedin (above is me pre-shower on the plane before I got told off for keeping my laptop on during takeoff). I was picked up from the airport by a lovely man named Steven who ran a fleet of vintage and brand new Jag limos. Not a bad start, I thought to myself. I turned up at my hotel somewhere around 10am to check in. No can do, sorry sir, check in starts at 2pm. Oh joy. No shower for me today! (It's 6:35pm right now and I still haven't had one.)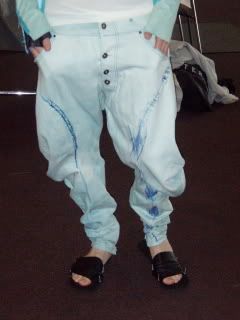 When I arrived at the first day of the fashion event, named, accordingly, the Southern Trust iD Dunedin Emerging Designer Awards Judging Day 09, I was immediately set upon by an Israeli girl (named Hadas Betzalel) with wild curly hair.

"Khey you! My model is too skinny, can I use you?"
"Flattery will get you everywhere. But, no sorry, I'm a blogger. (A fat blogger obviously) I have to take pictures and talk to people."
"But khe is too skinny please will you khelp me??"
"Ummmm.."
"Please khelp me."
"Ahhh... Ok."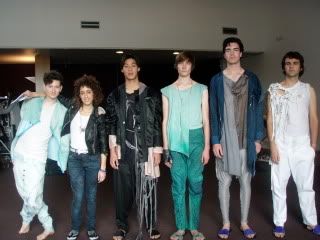 So I agreed to put on the outfit and walk into the room of judges which included, among others, the writer of my incredible

Sunday Magazine

profile - Katie Newton, and WORLD's Francis Hooper. I figured it would be a bit of a laugh and give me a chance to say hi to the judges.

I walked in grinning and stood right in front of Francis and Katie at the judging desk. They didn't notice me. Hadas started talking. I kept grinning away like an idiot. Nothing. Francis finally looked up and snorted when he saw me. Hadas kept talking. Katie kept listening. My grin was starting to hurt. After about two minutes Katie finally looked up beyond the neckline of my shirt, double took, then started laughing. It was funny. Dehumanising, but funny. Then the fidget in me took over. I wanted to scratch my back. I wanted to cough. I wasn't allowed. I started looking around, then remembered I was supposed to stay staring straight. I kept adjusting my shirt. I wasn't supposed to be touching anything. What seemed like hours after I'd walked in there, I was finally allowed to leave the room. I'm glad I don't have to do that everyday.

Tomorrow the emerging designer competition winner will be announced. My money is on the following three names: Glenn Yungnickel, Nadeesha Godamunne and Elizabeth Daisy Mei Fong.

I'll let you know if I was right.