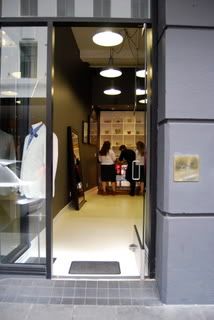 Murray Crane has pulled the plug on the Gubb and Mackie retail store on High St, with its final trading day taking place on Thursday 9 April. Despite concerted efforts on Crane's part to establish it as a viable outlet for the nautically inspired brand and to fill the gap left by
Little Brother's closure
in November of last year, the store has struggled to generate sufficient sales to warrant its existence in the current market. I sat down with Crane on Thursday morning to get the exclusive scoop on what prompted the decision. As you'd expect, it was one made with the recession in mind, but also with a good deal of common sense – after all, why have two stores opposite each other when you can consolidate all that stock into one?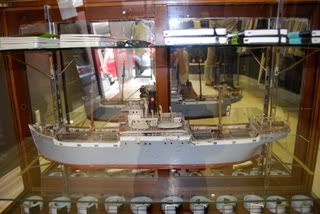 "The store's closing down today, most of the stock will be coming over to Crane Brothers and our Wellington store. When we closed Britomart we looked at the (former Little Brother) High St site and thought we'll give it a crack and see how it goes, which we've done, and for a variety of reasons - but generally it's economy driven really - it's just not busy enough. It doesn't really sustain itself, it's pointless having two stores on High St. I look at what's happening internationally, I look at

Monocle

magazine, I look at

The Sartorialist

and I look at the way those guys are dressing, and we're right on the money with what we're doing here, and it's just there's not enough customers - It's the same thing we had with Little Brother - there's just not enough customers here to sustain it having its own store. Gubb and Mackie is a specific type of thing, and the guys that get it and know it love it. But we just don't want to compromise what we're doing."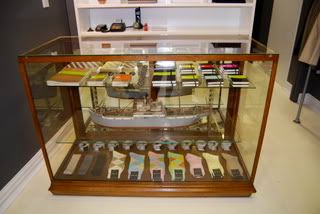 Gubb and Mackie is probably my favourite brand coming out of New Zealand right now, and like Crane said, it's right on the money with what's happening internationally at the moment. It's got that same preppy, clean, geeky feel as brands I love like Lacoste and the ill fated Obedient Sons. But as Crane also said, there're just not enough people in New Zealand to sustain a store like that. So while Gubb and Mackie might do a rip roaring trade elsewhere, in New Zealand it doesn't and certainly won't while this recession is going on.

Why? Two reasons that I can see: first, your average New Zealand man just doesn't get it. Why spend twice as much buying something at one store when you could spend half as much buying something similar (if only they knew) at another? They don't get that it's New Zealand made, or constructed using age old naval tailoring techniques. And they probably don't care. Second, we have a similar amount of brands per capita here as we have sheep. That's obviously a made up statistic but it's bordering on the reality. Everywhere you look there's a new New Zealand streetwear brand or a new New Zealand tee shirt label starting up. Hell, I even used to have one.

This problem of brands not being able to sustain themselves is a problem that I would expect will be facing more and more New Zealand designers in the next couple of years. There's too much choice for the consumer and not enough consumers to buy the product. Some, like Crane and Des Rusk, who closed his eponymous label down in January of this year, have had the intelligence and gall to get out before things really start going downhill.

I love the creativity and do it yourself mentality in this country but seriously, it's starting to get absurd. I'd be highly surprised if any brands that have started up recently will survive what's happening right now. Many established ones will fall.

I'd love to end this with an amazing solution telling our designers what to do, but I simply don't have one. I can't believe how naive I've been in thinking that the recession isn't going to affect us so badly here in New Zealand. All I can say is to new designers thinking about going into business now, think long and hard. Unless you're funded by a limitless amount of capital or have the greatest idea since Crocs (who I hear have filed for bankruptcy), don't.